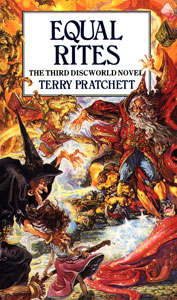 Author: Terry Pratchett.
Illustrator: Josh Kirby.
Blurb: The last thing the wizard Drum Billet did, before Death laid a bony hand on his shoulder, was to pass on his staff of power to the eighth son of an eighth son. Unfortunately for his colleagues in the chauvinistic (not to say misogynistic) world of magic, he failed to check on the new-born baby's gender...
Ad blocker interference detected!
Wikia is a free-to-use site that makes money from advertising. We have a modified experience for viewers using ad blockers

Wikia is not accessible if you've made further modifications. Remove the custom ad blocker rule(s) and the page will load as expected.