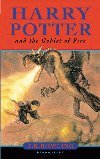 Author:
J.K. Rowling
It is the summer holidays, and one night Harry Potter wakes up with his scar burning. He has had a strange dream, one that he can't help worrying about...until a timely invitation from Ron Weasley arrives: to nothing less than the Quidditch World Cup!
Soon Harry is reunited with Ron and Hermione and gasping at the thrills of an international Quidditch match. But then something horrible happens which casts a shadow over everybody, and Harry in particular...
Ad blocker interference detected!
Wikia is a free-to-use site that makes money from advertising. We have a modified experience for viewers using ad blockers

Wikia is not accessible if you've made further modifications. Remove the custom ad blocker rule(s) and the page will load as expected.