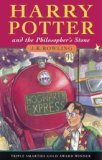 Author:
J.K Rowling
Harry Potter thinks he is an ordinary boy - until he is rescued by a beetle-eyed giant of a man, enrols at Hogwarts School of Witchcraft and Wizardry, learns to play Quidditch and does battle in a deadly duel. The reason: HARRY POTTER IS A WIZARD!
Ad blocker interference detected!
Wikia is a free-to-use site that makes money from advertising. We have a modified experience for viewers using ad blockers

Wikia is not accessible if you've made further modifications. Remove the custom ad blocker rule(s) and the page will load as expected.