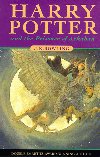 Author: J.K. Rowling
Harry Potter, along with his friends, Ron and Hermione, is about to start his third year at Hogwarts School of Witchcraft and Wizardry. Harry can't wait to get back to school after the summer holidays. (Who wouldn't if they lived with the horrible Dursleys?) But when Harry gets to Hogwarts, the atmosphere is tense. There's an escaped mass murderer on the the loose, and the sinister prison guards of Azkaban have been called in to guard the school.
Ad blocker interference detected!
Wikia is a free-to-use site that makes money from advertising. We have a modified experience for viewers using ad blockers

Wikia is not accessible if you've made further modifications. Remove the custom ad blocker rule(s) and the page will load as expected.