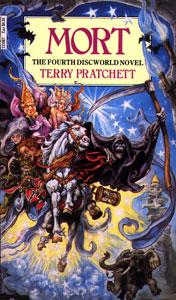 Author: Terry Pratchett.
Illustrator: Josh Kirby.
Blurb: Death comes to us all. When he came to Mort, he offered him a job.
After being assured that being dead was not compulsory, Mort accepted. However, he soon found that romantic longings did not mix easily with the responsibilities of being Death's apprentice...
Ad blocker interference detected!
Wikia is a free-to-use site that makes money from advertising. We have a modified experience for viewers using ad blockers

Wikia is not accessible if you've made further modifications. Remove the custom ad blocker rule(s) and the page will load as expected.