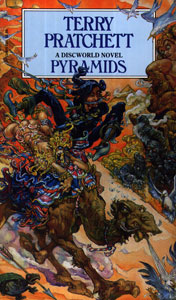 Author: Terry Pratchett.
Illustrator: Josh Kirby.
Plot: The main character of Pyramids is Teppic, prince of the tiny kingdom of Djelibeybi. Djelibeybi is the Discworld counterpart to Ancient Egypt.
Young Teppic has been in training at the Assassins Guild in Ankh-Morpork for several years. The day after passing his final exam he somehow senses that his father has died and that he must return home. Being the first Djelibeybian king raised outside the kingdom leads to some interesting problems, based on the fact that Dios, the high priest, is a stickler for tradition, and does not, in fact, allow the pharaohs to rule the country.
After numerous adventures and misunderstandings, Teppic is forced to escape from the palace, along with a handmaiden named Ptraci. Meanwhile, the massive pyramid being built for Teppic's father warps space-time so much that it "rotates" Djelebeybi out of alignment with the space/time of the rest of the disc by 90 degrees. Teppic and Ptraci travel to Ephebe to consult with the philosophers there as to how to get back inside the Kingdom. Meanwhile, pandemonium takes hold in Djelibeybi, as the kingdom's multifarious gods descend upon the populace, and all of Djelibeybi's dead rulers come back to life.
Eventually, Teppic re-enters the Kingdom and attempts to destroy the Great Pyramid, with the help of all of his newly resurrected ancestors. They are confronted by Dios, who, it turns out, is as old as the kingdom itself, and has advised every pharaoh in the history of the Kingdom. Dios hates change and thinks Djelibeybi should stay the same. Teppic succeeds in destroying the Pyramid, returning Djelibeybi to the real world and sending Dios back through time (where he meets the original founder of the Kingdom, thereby re-starting the cycle). Teppic then abdicates, allowing Ptraci (who turns out to be his half-sister) to rule. Ptraci immediately institutes much-needed changes.
Ad blocker interference detected!
Wikia is a free-to-use site that makes money from advertising. We have a modified experience for viewers using ad blockers

Wikia is not accessible if you've made further modifications. Remove the custom ad blocker rule(s) and the page will load as expected.