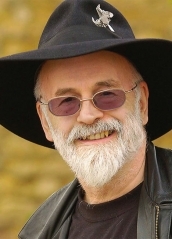 Author
Sir Terence David John "Terry" Pratchett, born 28 April 1948, is an English novelist, known for his frequently comical work in the fantasy genre. He is best known for his popular and long-running Discworld series of comic fantasy novels. Pratchett's first novel, The Carpet People, was published in 1971, and since his first Discworld novel (The Colour of Magic) was published in 1983, he has written two books a year on average. His latest Discworld book, Snuff is the third-fastest-selling novel since records began in the United Kingdom selling 55,000 copies in the first three days.
Pratchett was the UK's best-selling author of the 1990s, and has sold over 70 million books worldwide in thirty-seven languages. He is currently the second most-read writer in the UK, and seventh most-read non-US author in the US.
Pratchett was appointed Officer of the Order of the British Empire (OBE) in 1998 and was knighted for services to literature in the 2009 New Years Honours. In 2001 he was awarded the Carnegie Medal for his children's novel The Amazing Maurice and his Educated Rodents.
In December 2007, Pratchett publicly announced that he was suffering from early-onset Alzheimer's disease and, subsequently, made a substantial public donation to the Alzheimer's Research Trust, and filmed a programme chronicling his experiences with the disease for the BBC.
Terry Pratchett's works:
Terry Pratchett's Discworld Novels (in order):
1. The Colour of Magic.
2. The Light Fantastic.
3. Equal Rites.
4. Mort.
5. Sourcery.
6. Wyrd Sisters.
7. Pyramids.
8. Guards! Guards!
9. Eric.
10. Moving Pictures.
11. Reaper Man.
12. Witches Abroad.
13. Small Gods.
14. Lords and Ladies.
15. Men at Arms.
16. Soul Music.
17. Interesting Times.
18. Maskerade.
19. Feet of Clay.
20. Hogfather.
21. Jingo.
22. The Last Continent.
23. Carpe Jugulum.
24. The Fifth Elephant.
25. The Truth.
26. Thief of Time.
27. The Last Hero.
28. The Amazing Mauric & his Educated Rodents (for younger readers).
29. Night Watch.
30. The Wee Free Men (for younger readers).
31. Monstrous Regiment.
32. A Hat Full of Sky (for younger readers).
33. Going Postal.
34. Thud!
35. Wintersmith (for younger readers).
36. Making Money.
37. Unseen Academicals.
38. I Shall Wear Midnight (for younger readers).
Non-Discworld books by Terry Pratchett:
- The Dark Side of the Sun.
- Strata.
- The Unadulterated Cat.
- Good Omens.
Non-Discworld Novels by Terry Pratchett for younger readers:
- The Carpet People.
- Truckers.
- Diggers.
- Wings.
- Only You Can Save Mankind.
- Johnny and the Dead.
- Johnny and the Bomb.
- Nation.