The 39 Clues is a series of adventure novels written by a collaboration of authors, including Rick Riordan, Gordon Korman, Peter Lerangis, Jude Watson, Patrick Carman, Linda Sue Park, Margaret Peterson Haddix, Roland Smith, and David Baldacci. The books chronicle the adventures of two siblings, Amy and Dan Cahill, who discover that they belong to the Cahill family, the most influential family in history. The main story arc concerns Dan and Amy's quest to find the 39 Clues, which are ingredients to a serum that can create the most powerful person on Earth. Since the release of the first novel The Maze of Bones on September 9, 2008, the books have gained popularity, positive critical reception, and commercial success. As of July 2010, the book series has about 8.5 million copies in print and has been translated into 24 languages. The major publisher of the books is Scholastic Press in the United States. Steven Spielberg acquired film rights to the series in June 2008, and a film based on the books will be released in 2014. The series also originated tie-in merchandise, including collectible cards and an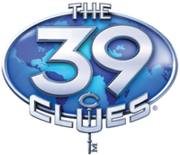 Characters
Edit
Amy Cahill and Dan Cahill are the series' protagonists. They are the grandchildren of Grace Cahill. They became orphans when their parents died in a fire seven years earlier. Since then, they have been in the care of their great-aunt Beatrice, before traveling to find the 39 Clues. They both have jade-green eyes, but Amy has reddish-brown hair, while Dan's is a dark blonde. At first, the siblings do not know to which branch they belong. The Viper's Nest reveals that Amy and Dan are part of an unknown fifth branch, the Madrigals, who aim to unite the Cahill family.
Grace Cahill is the Cahill matriarch and Amy and Dan's grandmother and led the Madrigal branch. She has traveled all over the world and settled in Attleboro, Massachusetts. The Maze of Bones begins with her dying and her last minute change in her will.
Nellie Gomez is the Cahill's au pair. She can fly a plane, race cars, and speak over ten different languages. Amy and Dan enlist her to be their guardian on the hunt for the 39 Clues, unknowingly at first, but she later decides to help the children. She is of Mexican and French descent.
William McIntyre is Grace Cahill's mysterious lawyer, advisor, and "closest confidant for half of her life". He helps an ominous character, the Man In Black, who follows the Cahills on the hunt and whom Storm Warning reveals is Fiske Cahill, Amy and Dan's great-uncle.