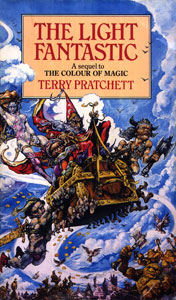 Author: Terry Pratchett.
Illustrator: Josh Kirby.
Blurb: As it moves towards a seemingly inevitable collision with a malevolent red star, the Discworld has only one possible saviour. Unfortunately, this happens to be the singularly inept and cowardly wizard called Rincewind, who was last seen falling off the edge of the world...
Ad blocker interference detected!
Wikia is a free-to-use site that makes money from advertising. We have a modified experience for viewers using ad blockers

Wikia is not accessible if you've made further modifications. Remove the custom ad blocker rule(s) and the page will load as expected.