The Maze of Bones is the first novel of The 39 Clues series, written by Rick Riordan and published September 9, 2008 by Scholastic. It stars Amy and Dan Cahill, two orphans who discover, upon their grandmother Grace's death, that they are part of the powerful Cahill family, whose members constantly fight each other for Clues, which are ingredients to a mysterious serum. The novel has received generally positive reviews.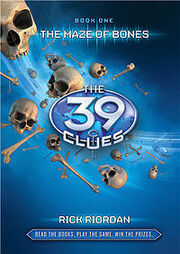 Ad blocker interference detected!
Wikia is a free-to-use site that makes money from advertising. We have a modified experience for viewers using ad blockers

Wikia is not accessible if you've made further modifications. Remove the custom ad blocker rule(s) and the page will load as expected.