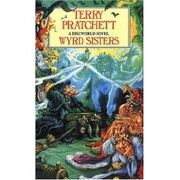 Book
Author: Terry Pratchett.
Illustrator: Josh Kirby.
Witches are not by their nature gregarious, and they certainly don't have leaders.
Granny Weatherwax was the most highly-regarded of the leaders they didn't have.
But even she found that meddling in royal politics was a lot more difficult than certain playwrights would have you believe...
Ad blocker interference detected!
Wikia is a free-to-use site that makes money from advertising. We have a modified experience for viewers using ad blockers

Wikia is not accessible if you've made further modifications. Remove the custom ad blocker rule(s) and the page will load as expected.